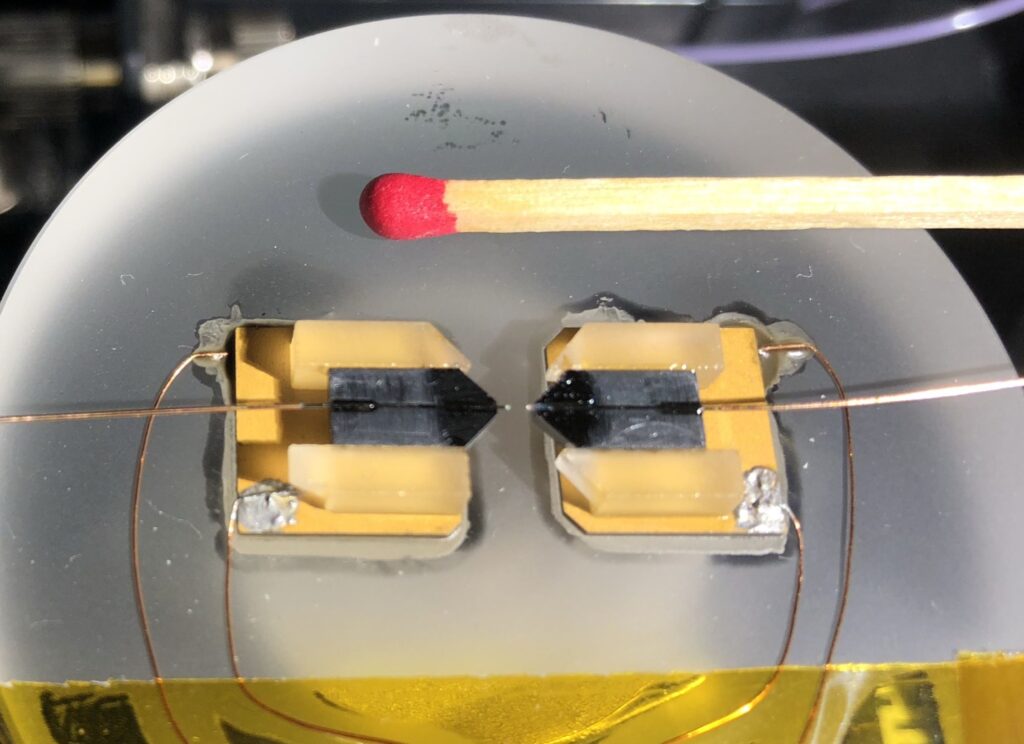 Cavity-enhanced laser spectroscopy is the gold standard for precise measurement of low gas concentrations, such as greenhouse gases. Yet, today's trace gas analyzers are bulky devices, typically requiring stationary installation. Our fiber Fabry-Perot microcavities (FFPs) enable a miniature, portable and robust gas analyser that can be integrated in a hand-held device or mounted on a drone. It offers a combination of compactness and performance that does not exist in any commercial instrument today. With its sub-microliter analysis volume, it is also extremely fast and can cope with small gas samples. Furthermore, being fiber coupled by design, our analyser leverages the field-proven, cheap and high-performance toolset of telecom fiber optics.
A patent application that we prepared with Sorbonne Université's TTO Lutech attracted the attention of an experienced optical technology entrepreneur, and the idea gathered momentum. Following the successful first demonstration of a prototype detecting CO2 and an in-depth market study, the startup company Mirega SAS has been created in early 2023 to bring FFP gas analyzers to the market.
In parallel with Mirega's product development, research on FFP-enabled, high-performance trace gas analysis continues in our group. We are pushing FFP technology further to the mid-infrared into the "molecular fingerprint region", where much stronger molecular transitions enable still more sensitivity and precision. Furthermore, with their short length and extremely large free spectral range, FFP cavities explore new terrain in cavity-enhanced spectroscopy and open the door to novel modulation and signal extraction techniques.
Post-doc position available!

We are looking for a post-doc to work on our miniature greenhouse gas analyzer project. If you have experience in trace gas spectroscopy research, instrument and/or methods development for spectroscopy, or related fields, and you are looking for a challenging but rewarding project that turns frontier research into a project with positive societal impact, then …

Read more

MiTra receives ERC PoC grant

Our miniature greenhouse gas analyzer project has been awarded an ERC Proof-of-Concept (PoC) grant. This will boost our development of an ultracompact yet very accurate analyzer based on our fiber Fabry-Perot microcavity technology. It will measure the concentration of greenhouse gases with an accuracy and stability rivaling state-of-the art instruments, but in a handheld, drone-mountable …

Read more